Customizing the Player and Lead Form Settings for a Portal Experience
In this topic you will learn how to customize the player and lead form settings for a Portal Experience.
To customize the Player and Lead Form settings, edit the Portal Experience and click Video and Playback > Player and Lead Form in the left navigation. The Player and Lead Form settings allow the following to be configured for a Portal Experience: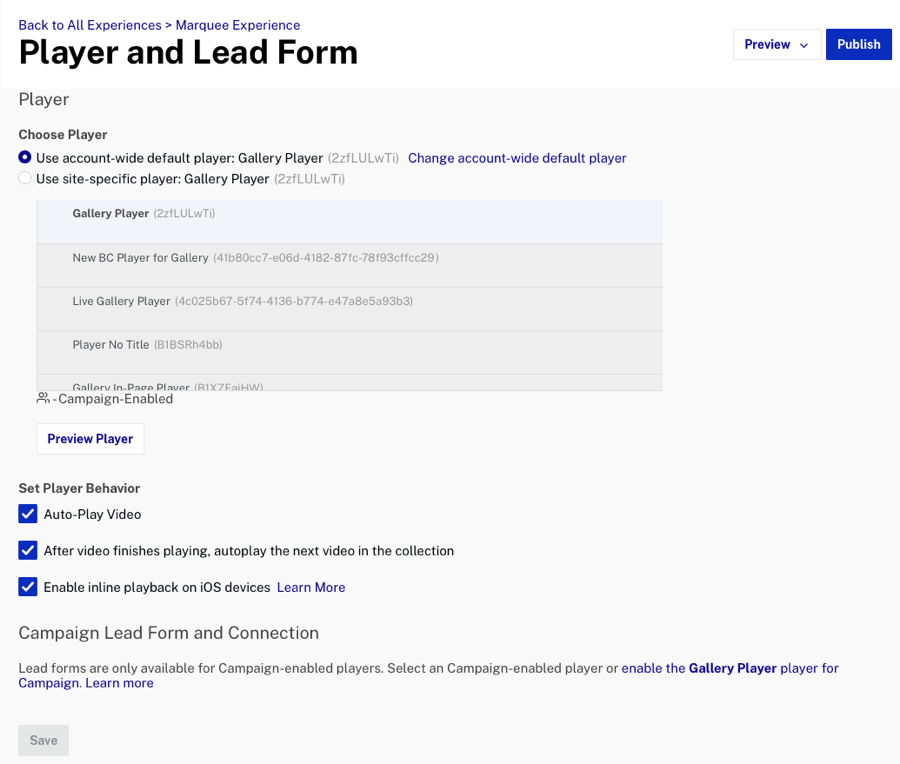 Make sure you republish the experience after making any changes to the Player and Lead Form settings.
Using a site-specific player
By default, all Portal Experiences will use the account-wide default player that was selected as part of the Gallery settings. To use a site-specific player, select Use site-specific player and then select a player to use. Campaign-enabled players are indicated with the Campaign icon (

). These players are configured with the Campaign plugin and can track video engagement data. A Campaign-enabled player must be used to use a lead form. Click Preview Player to see a player preview. Hovering over the Campaign icon will display the Campaign connection information.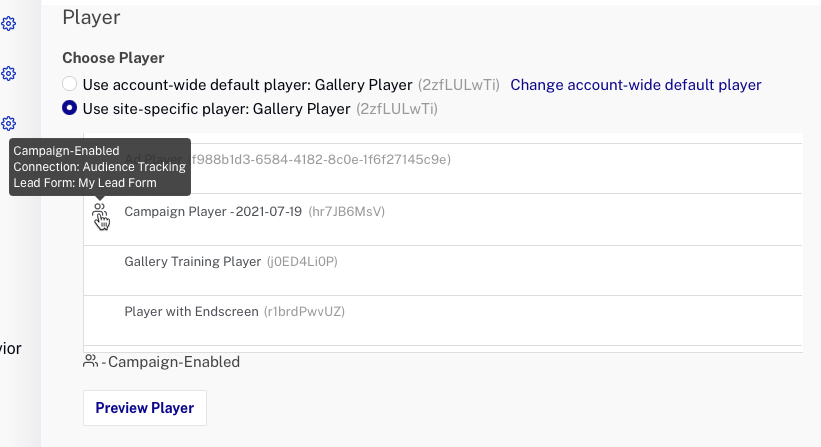 For information on creating Campaign-enabled players, see Creating a Campaign-enabled Player.
Configuring player behavior
The following player behavior settings can be configured:
Auto-Play Video - If checked, videos on the detail page will auto play. This setting overrides the Auto-Play Video on Player Load setting that is configured in the Players module. This setting is only available for Catalogue, Marquee, Publisher, Chronicle and Classic templates.
After video finishes playing, autoplay the next video in the collection - If checked, the next video in a collection will start playing when a video finishes.
Enable inline playback on iOS devices - If checked, enables inline playback on iOS devices when using Brightcove Player version 5.10.5 or newer. This setting adds the playsinline attribute to the player publishing code.
Using a lead form
Lead forms can be used to capture viewer information during video playback. For information on using a lead form, see Using a Lead Form with a Portal Experience. When a Campaign-enabled player is selected, the lead form being used (if any) and the Campaign connection information will be displayed.