Configuring YouTube Settings
In this topic you will learn how to configure the Gallery YouTube settings so that YouTube videos can be added to Portal or In-Page Experiences.
To configure the YouTube settings, follow these steps:
Open the Gallery module.
Click the settings icon () on the home page.
In the left navigation, click the YouTube link.
Click Connect.
Select the account you want to login to.

Sign in to your Google account.
If you have access to multiple Google accounts, select the account associated with the YouTube account you want to access.

Brightcove will request permission to manage your YouTube account. Click Allow.

Verify that the connection was successful. The Settings page will display the YouTube channel you are connected to.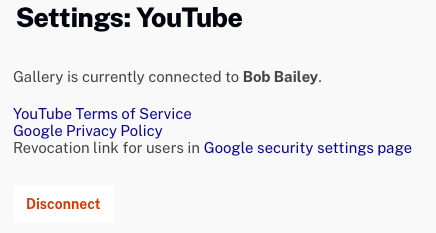 For information on adding YouTube videos to a Gallery experience, see one of the following documents: